Detective Bureau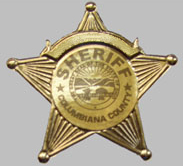 Criminal Investigations
The Columbiana County Sheriff's Office Detective Bureau is comprised of four investigators. The Detective Bureau is responsible for the investigation of all major crimes.
The investigators routinely process crime scenes, process the evidence gathered in a case, interview any witnesses to an incident, interview individuals suspected of committing a crime, gather documentation of the incident, etc. The investigators attend seminars and specialized trainings throughout the area to stay on top of the latest techniques in their respective areas.
The Detective Bureau organizes monthly Investigators Meetings that are held at the various agencies in Columbiana County. The purposes of these meetings are to keep the lines of communication open between the various agencies. Agencies that are experiencing problems in a certain area can gain knowledge from their peers at other agencies. Many times, it is discovered that certain individuals, or groups of individuals will travel from one area to another and commit similar acts.
The Detective Bureau is frequently called for assistance from other agencies in and around Columbiana County. The investigators will assist the requesting agency in what ever way is requested.
The investigators are trained in many areas of investigation. The investigators are called upon to perform many various tasks. Each of the investigators can handle any case that is forwarded to them. However, each one of the investigators are trained in a specific area of investigation.